New Exhibit Explores Color's Impact on Character Relationships
Can color impact a character's role?
Nine months ago Austin based artist, Tom Suhler, asked himself that question, but before he began tinting the characters in his images his head was flooded with more questions.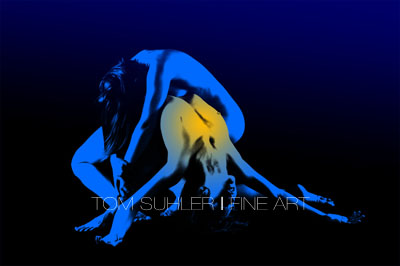 Could color support a character's role or diminish it? Could color make a story easier to understand or change it? Could color be used to better convey an emotion? If so, then which colors should be used and why?
"That's the way my projects go," says Suhler. "One question leads to another and then another. Before you know it, Iím down the rabbit hole exploring an ever expanding world."
You can see the world he discovered and create your own in the new exhibit "Exploring Color & Character Relationships" at Exposure Fine Art Gallery & Studio.
"I enjoy images that on the surface are beautiful yet have complex underpinnings," continues Suhler. "For example, the images in this exhibit explore relationships between colors, relationships between characters and the viewer's relationships to color. That's a lot going on within a single frame."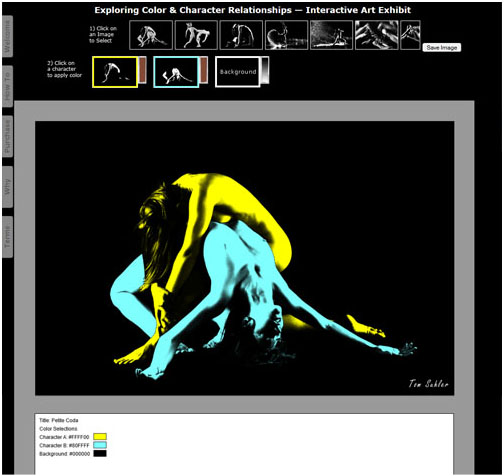 The exhibit progresses through a series of Suhler's images. There is the original untouched image on display next to the tinted images. The accompanying text includes the question he used in approaching the image and a brief discussion about the color relationships at play. The final part of the exhibit is a unique interactive experience that allows the viewer to engage images and choose which colors they want to apply to the characters. Once they have created an image, they can text it to their phones, email it or even order a print.
"I want to see people engaged with art. It helps provide an avenue for discovering insights. Thatís why I create ways for viewers to interact with the images. In this case, they get to select which colors to apply to the characters. They get to see and feel how warm colors can pull an element to the foreground or how contrasting colors can create separation."
Later this month, the entire exhibit will launch in a web format on Suhler's website, www.tomsuhlerfineart.com. Until then, you will have to see it in person.
More at Exposure Fine Art Gallery & Studio
Viewers will also find over 30 images of Suhler's previous works along with several short videos. Two of these include some behind the scenes views of his sets.
New To The Studio
Making way for this exhibit meant moving some previous works into the studio space. Suhler created a hanging wall and invented a new art hanging system to accomplish the task. And when it came time to light the works, he continued the green choice of using LED lighting.
When & Where
The Opening Night Party is November 14th from 7:00 PM to midnight and is open to the public.
The exhibit continues November 15, 16, 22, & 23 from 11:00 AM to 6:00 PM as part of the East Austin Studio Tours.
Exposure Fine Art Gallery & Studio is located at 777 Shady Lane #8
512.692.6166
Links
Images:
Petite Coda No. 3 exposurefineartgallery.com/images/east2014/petite-coda-3-810.jpg
(e)Motion 2630 No. 1 exposurefineartgallery.com/images/east2014/em-2630_1-810.jpg
Fandango No. 1 No. 3 exposurefineartgallery.com/images/east2014/fandango-1-810.jpg
Interactive Exhibit exposurefineartgallery.com/images/interactive1.jpg

Gallery Website:
http://exposurefineartgallery.com/austin-exposure-art-gallery-november-2014-party.php
http://exposurefineartgallery.com/austin-art-gallery-east-2014.php

Facebook Opening Night link: https://www.facebook.com/events/1483093781952199
About the Artist:
Tom Suhler is a contemporary artist and filmmaker living in Austin, Texas. His works are inspired by a very eclectic mix of sources including painting, sculpture, dance, architecture, storytelling, music and world affairs.
Contact:
Tom Suhler
512.692.6166
END
###